Sylvan Parc: A place for the application of YPP principles
Harmonizing the Sylvan park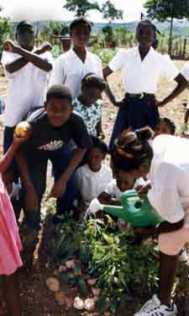 The sylvan park can be used year after year for the planting of new trees. It is the heart of YPP citizen activities. It is there that they can meet to renew land, desert or not, provided by a municipality or private party, on a long term basis. Over time, this space becomes a site for meeting, apprenticeship and even economic development (artsandcrafts, fruits,seminars,internships etc..)
Together, the young will :
Harmonize and clean the parc and recycle abandonned objects.
Inventorize the parc's natural resources: the different animal and plant species, geological characteristics of the soil,water resources etc..
Define a general plan of the parc in transition.
Landscape the park: choose planting locations, food, medicinal, ornamental plants.
Decide on the planning and required installations to protect the soil and make the parc more agreeable (recycling,composting,eco-constructions(eg. tensile structures,pavillons), waterless toilets, wells etc..)
Biodiversify the park with a botanical zoologicaland geological inventory
Create community gardens, alveolic polyculture ,traditional or other.
Create a meeting place for festivals and/or events.
Add value to the site's natural heritage.
Demonstrate composting, recycling and ecological construction etc..
YPP Friendship Centre
A YPP Center is not necessarily an expensive local. It can be a space made available to the YPP chapters: eg. a association hall, a church basement, a classroom or at a member's home. The ideal, of course, would be facilities on the Sylvan Park itself: a building built with materials that respect nature.
It is in this context that the Center activities can evolve and develop with the participation of each on the basis of regular meetings focused on environmental concepts (ecology, healthy homes, renewable energy,water management, recycling, arts etc..) and much more.

The YPP Centre is also the opportunity given to the members to put into practice and transmit, as widely as possible, knowledge about recycling, recovering seeds and treenuts, and a socialy healthy lifestyle.
A YPP Center, is also an oasis for the young to find themselves in a place free of drugs, cigarettes, alcool and delinquence. .