Launching a Local Committee
The Young People's Planet (Terre des jeunes or TDJ) Network is open to any person who wishes to launch a local committee

Local Committees
The TDJ "citizen" can, in his or her home, school, neighborhood, village or city, create a TDJ committee along with at least two other friends, so long as all are motivated; these will form the executive branch of the TDJ committee, sharing the roles of President, Secretary and Treasurer. Any number of members can then adhere to the TDJ committee. Around the world, all local TDJ committees share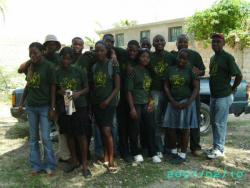 a desire to protect the environment and recognize that young people (defined widely) constitute fundamental agents of change.
Each local committee must sensitize other young people, remain active, undertake concrete actions for the improvement of their local environment, and accept the responsibility of managing spaces entrusted to them by local governments, organizations and landowners. The actions of Terre des jeunes are based primarily on volunteerism.
Each local committee is entirely independant of the translational committee based in Quebec, Canada.
Terre des jeunes Transnational offers local committees a common vision, moral support and logisitical support to the local committees; allowing them also access to a page on the common website. On this web page, local committees can display texts, images and other content related to their actions.
Here is a typical program of a local committee :
If it is not done already, and where possible, officially register your structure (legally).
Contact local authorities (mayor's office, police office, schools, churches) to announce that a local chapter of Terre des jeunes (or Young People's Planet) has been created. Obtain if possible some logistical help:
obtain access to a meeting room (classroom, office, church basement, community center, home of a member, self-built area);
for the creation of a local sylva park (to be used to plant trees and conduct various activities), obtain that a large enough plot of land be entrusted to your committee for long period.
for certain activities, access to: a photocopier, internet, telephone, transportation, water, photocopies, téléphone, domiciliation, transports, eau, temporary living quarters.
Some ideas for your local committee :
Follow the official Tree Festival (Fête de l'arbre) programme, on a scale with which you are comfortable: collecting seeds, tree nursery, Tree Festival and Sylva Park (see Fête de l'arbre, note that this section is primarily in French, but the videos and images give a good idea of how this works. Please also do not hesitate to contact us for further details)
organize a group of citizens to clean up a local lake, river, playground, forest, etc.
Organize a composting activity (all links are mainly in French, unless specified.) at home, school, or elsewhere.
Organize a recyling activity at home, school, or elsewhere.
Organize a community initiative: dig a well, collective latrines, water distribution system. Consider enlisting the help of other villages and organizations for this.
Create an ecological garden. Plant a vegetable garden or collective garden.
Construct a solar oven with simple materials.
Sensitize people around you to alternatives to wood coal if that is a problem in your area.
Organize training sessions around environmental issues (how a tree nursery works, composting, water pollution, earth, sustainable agriculture, climate change, etc.)
Become the guardians of a sensitive natural area (for example, a forest or swampland), requesting official recognition and planning activities around the area.
Clean up a natural body of water of debris, plastic bags and bottles.
Plant trees around a body of water to prevent erosion and protect water quality.
Make a garden in an urban area, for example on a rooftop (see for example: http://rooftopgardens.ca/?q=fr/internationale). This cools down the city and is also a source of food security.
Make an ecological construction which can be a meeting place for your TDJ committee.
Check out learning material from UNESCO or NGOs. This can inspire you for your own training sessions: http://www.unccd.int/publicinfo/unescoKit/unescoKit.php
Financing your activities
TDJ activities are based primarily on volunteerism; you will not receive any direct funding from TDJ transnational. We are conscious of the urgent need to protect our environment; our very survival is at stake. That is why it is important for each of us to work independently and not be dependent on funding from outside sources. Do not wait for funding to stand up for your own community, or you will wait a very long time!
Still, it is not easy for an organization to function with no funding and based entirely on volunteerism, especially in certain countries where political, financial and social stability are far from guaranteed. The most important thing is to motivate volunteers with small rewards and value their work. Here are some ideas to motivate volunteers and find sources of funding:
Find partners in your communiuty. There are organizations, schools, medias, companies and political entities (like the mayor's office), as well as individuals who have access to funding, plots of land, grants, materials, expertise, visibility, contracts.
Generate buzz. When you become a TDJ committee, you can promote your activities via the TDJ website. Put photos, texts about your actions. This gives you credibility. Local media is also important. Contact them, put posters up in your village or city.
Host a fundraiser: organize a funding support, a dance, a musical show, car wash, bingo, draw of a prize, lottery, tombola; sell products you have purchased or created (crafts, t-shirts, food, plants, fruits and vegetables from your garden).
Find sponsors : Contact companies, merchants who can give you food, money, gifts. In exchange, display their names and telephone numbers during your activities, on your t-shirts, etc.
Expand your network of contacts within influential organizations, by volunteering for them or by offering your expertise for free. Make sure to always contact the same person within an organization.
Ask for donations either in the form of money, materials or services (church, family, friends, official organizations). Donations in the form of materials can be for example books, tools, manpower, musicians, etc.
Ask members of your local TDJ committee to pay for membership. These amounts, even very small, add up. Provide certain perks to members: t-shirts, membership card, party for members, special invitations, invitations to meetings, etc.
Invite interns from abroad or your own country to work with you (young people who have just gotten a degree and want to get experience, for example). This means you must provide room and board in exchange for a fee.
Organize amusing activities, music, pot luck, draw of a prize, etc.
Be patient, show a positive example in your community, be constant and you will be noticed. The first years will be difficult but after a certain time your credibility will be established: just look at the existing committees!
Keep in touch with other TDJ committees in your area of world and further afield, share your experiences.
TDJ transnational can, in certain circumstances and after several years of existance, finance in a limited manner certain local committees. The amounts are limited (200$ to 1000$) which are provided by volunteers of TDJ transnational and provided as a symbol of our solidarity with you.
We firmly believe that volunteer action is the best way forward. However, here are some ideas and tools for you when you find that you do need funding. Here are some links to organizations that can fund environmental initiatives. For now the list is in French. If you would like to help translate the rest of this page please contact us. Les demandes doivent être faites très soigneusement car cela pourrait affecter la capacité des autres antennes à faire des demandes. Vous pouvez nous envoyer votre demande avant de la soumettre pour recevoir des suggestions/corrections. Il faut des projets très concrets, bien décrits avec un budget et un échéancier clairs. Ces demandes peuvent demander beaucoup de temps et d'énergie et être très restrictives dans leurs exigences. La plupart des organismes ne font que du co-financement, il faut donc trouver d'autres partenaires si possible. Cependant, l'action bénévole est généralement considérée comme une contribution en nature. Voici donc des idées (NB : nous ne faisons pas affaire avec ces organismes, étant nous-même des bénévoles, ce ne sont que des suggestions. Vous êtes donc responsables des demandes et de faire vos propres recherches)
Le Programme de Petites Initiatives du Fonds Français pour l'Environnement Mondial a pour objectif de soutenir les organisations de la société civile des pays africains, actives dans la protection de la biodiversité et la lutte contre les changements climatiques.
http://www.uicn.fr/Un-nouvel-appel-a-projets-du.html
Interamerican Foundation (en anglais) : http://www.iaf.gov/grants/apply_grant_en.asp
Fondation Prince Albert II de Monaco : http://www.fondationprincealbertiidemonaco.net/fondation.asp?page=deposez_vos_projets
Fonds d'ambassades : Les pays du Nord représentés dans un pays du Sud possèdent en général des "fonds d'ambassade", de montants limités mais gérés sur place par les ambassadeurs ou leurs experts en coopération technique. Les ambassades gèrent aussi les demandes de coopérants. http://base.d-p-h.info/fr/fiches/premierdph/fiche-premierdph-1652.html
UICN : Union internationale pour la conservation de la nature est présente dans plusieurs pays. http://www.iucn.org/fr/ou/
CECI : http://www.ceci.ca/ceci/fr/que_faisons_nous_/solidarite_canada_haiti/FicheAssistHumanitaire.pdf
OXFAM : ils sont présents dans plusieurs pays. Vous pouvez faire certains partenariats avec eux.
Fonds pour l'environnement mondial (FEM) en anglais Global Environment Facility : Le mécanisme officiel pour le financement des interventions pour la protection de l'environnement est le Fonds pour l'Environnement Mondial. Beaucoup de gros organismes sont financés là. <http://www.gefweb.org/>
http://web.univ-pau.fr/~scholle/ecosystemes/5-gef/5-pg-fr.htm

AUSSI -> Un guide pour faire des demandes de subvention : http://www.unesco.org/csi/pub/info/seacam10.htm

For the exact procedure see this page